METEOR OUTBURST POSSIBLE NEXT WEEK: Debris from shattered Comet 73P/Schwassmann-Wachmann 3 is approaching Earth. ETA: May 31st. Forecasters aren't certain, but there could be a meteor outburst when the material arrives. North Americans are favored to see the show if it actually happens. Estimates of visual meteor rates range from near zero to thousands per hour, highlighting the uncertainty of the forecast. [full story] [sky map]

A DEAD SUNSPOT EXPLODES (UPDATED): A magnetic filament snaking through the corpse of decayed sunspot AR3016 erupted on May 25th (1824 UT), producing a M1-class solar flare. NASA's Solar Dynamics Observatory recorded the blast:
Coronagraph images from the Solar and Heliospheric Observatory (SOHO) confirm that the explosion hurled a CME into space: movie. The bulk of the CME will miss Earth, passing just ahead and south of our planet. However, a fraction of the cloud will hit. NOAA analysts expect a glancing blow to Earth's magnetosphere on May 28th with a chance of minor G1-class geomagnetic storms.
"This happened on my 13th night of star chasing in Tibet, carrying 4 camera stands and lenses with multiple focal lengths," says Esy. "I have always believed that you should give yourself completely to nature, wait and prepare unceasingly, and the sky will reward you with more than you can imagine. My patience was definitely rewarded."
"The outbreak was triggered by strong lightning over China, perhaps hundreds of kilometers away," he continues. "We could also see ripples of red airglow surrounding the sprites. It was truly the fireworks of the Universe."
After one outburst subsided, Esy photographed a green afterglow--the Green Ghost:
Researchers are still learning about this phenomenon. A leading theory holds that Green Ghosts appear when the tops of strong sprites hit the airglow layer ~90 km above Earth's surface. Oxygen atoms briefly glow green, marking the location of the impact.
"I believe this could be the first Green Ghost sighted over China," says Esy, "and the image could provide valuable data for research."
CAPT. KIRK BEER COZY: Boldly going where no beer has gone before, this Capt. Kirk beer cozy flew to the edge of space on May 21, 2022. It hitched a ride onboard an Earth to Sky Calculus cosmic ray research balloon. Here it is parachuting back to Earth from an altitude of 109,888 feet:
You can have it for $97.95. The students are selling beer cozies (beer not included) to support their cosmic ray ballooning program. They make great Father's Day and birthday gifts. Each one comes with greeting card showing the cozy in flight, and telling the story of its trip to the stratosphere and back again.
Every night, a network of NASA all-sky cameras scans the skies above the United States for meteoritic fireballs. Automated software maintained by NASA's Meteoroid Environment Office calculates their orbits, velocity, penetration depth in Earth's atmosphere and many other characteristics. Daily results are presented here on Spaceweather.com.
On May 25, 2022, the network reported 3 fireballs.

In this diagram of the inner solar system, all of the fireball orbits intersect at a single point--Earth. The orbits are color-coded by velocity, from slow (red) to fast (blue). [Larger image] [movies]
Near Earth Asteroids

Potentially Hazardous Asteroids (PHAs) are space rocks larger than approximately 100m that can come closer to Earth than 0.05 AU. None of the known PHAs is on a collision course with our planet, although astronomers are finding new ones all the time.
On May 27, 2022 there were

2279

potentially hazardous asteroids.
Recent & Upcoming Earth-asteroid encounters:

Notes: LD means "Lunar Distance." 1 LD = 384,401 km, the distance between Earth and the Moon. 1 LD also equals 0.00256 AU. MAG is the visual magnitude of the asteroid on the date of closest approach.
COSMIC RAYS IN ATMOSPHERE

SPACE WEATHER BALLOON DATA: Almost once a week, Spaceweather.com and the students of Earth to Sky Calculus fly space weather balloons to the stratosphere over California. These balloons are equipped with sensors that detect secondary cosmic rays, a form of radiation from space that can penetrate all the way down to Earth's surface. Our monitoring program has been underway without interruption for 7 years, resulting in a unique dataset of in situ atmospheric measurements.
Latest results (Nov. 2021): Our balloons have just measured a sudden drop in atmospheric radiation. It happened during the strong geomagnetic storms of Nov. 3-4, 2021. Here are the data: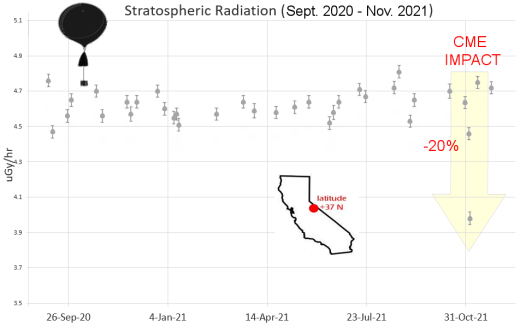 This is called a "Forbush decrease," named after American physicist Scott Forbush who studied cosmic rays in the early 20th century. It happens when a CME from the sun sweeps past Earth and literally pushes cosmic rays away from our planet. Radiation from deep space that would normally pepper Earth's upper atmosphere is briefly wiped out.
We have measured Forbush decreases before. For example, here's one from Sept. 2014. The Forbush Decrease of Nov. 3-4, 2021, was the deepest in the history of our 7-year atmospheric monitoring program. Radiation levels in the stratosphere over California dropped nearly 20%, more than doubling the previous record from our dataset.
En route to the stratosphere, our sensors also pass through aviation altitudes, so we can sample radiation where planes fly. This plot shows how the Forbush decrease was restricted to the stratosphere; it did not affect lower levels of the atmosphere:

The dose rates shown above are expressed as multiples of sea level. For instance, we see that boarding a plane that flies at 25,000 feet exposes passengers to dose rates ~10x higher than sea level. At 40,000 feet, the multiplier is closer to 50x. The higher you fly, the more radiation you will absorb.
Who cares? Cosmic rays are a surprisingly "down to Earth" form of space weather. They can seed clouds, trigger lightning, and penetrate commercial airplanes. According to a study from the Harvard T.H. Chan school of public health, crews of aircraft have higher rates of cancer than the general population. The researchers listed cosmic rays, irregular sleep habits, and chemical contaminants as leading risk factors. Somewhat more controversial studies (#1, #2, #3, #4) link cosmic rays with cardiac arrhythmias and sudden cardiac death.
Technical notes: The radiation sensors onboard our helium balloons detect X-rays and gamma-rays in the energy range 10 keV to 20 MeV. These energies span the range of medical X-ray machines and airport security scanners.
Data points in the first graph ("Stratospheric Radiation") correspond to the peak of the Regener-Pfotzer maximum, which lies about 67,000 feet above central California. When cosmic rays crash into Earth's atmosphere, they produce a spray of secondary particles that is most intense at the entrance to the stratosphere. Physicists Eric Regener and Georg Pfotzer discovered the maximum using balloons in the 1930s and it is what we are measuring today.